For more than three years, transgender Americans have openly and proudly served our country in the military. In June 2016, these patriots were finally able to begin serving authentically when, under the Obama administration, the military finally updated the outdated regulations that had restricted their service. Today, thousands of transgender Americans serve in every branch of the Armed Forces.
These servicemembers have proven themselves time and again. Never giving up, they continue to sacrifice so much for our country despite a new occupant of the Oval Office reversing the previous administration's changes and re-implementing a transgender military ban. MMAA is proud to be fighting that ban in court and on Capitol Hill, and we are determined to ensure that justice and equality ultimately prevail. Just like the far majority of Americans, we believe what really matters for military service is whether or not someone is qualified and able to accomplish the mission, not their gender identity.
We'd like to introduce you to 7 transgender patriots who are proud to serve our nation in uniform.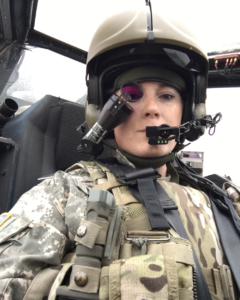 CW3 Lindsey Muller
U.S. Army
152H Attack Helicopter Pilot
Current Duty Station: Ft Carson, CO
Length of Service: 19+ years
Why are you proud to serve?
"I'm proud to serve because I have seen the positive differences that we've made as a nation and as a military fighting force. The sense of camaraderie and family provided by military service has given my family and I a lifetime of positive experiences and support."
Interesting fact?
"I may be a pilot, but I'm not a fan of heights."
Anything else you'd like to share?
"One of the greatest strengths of our military force is our diversity. Everyone has a strength and a weakness and in this profession we capitalize on that very fact. Our collective strengths compliment our weaknesses and enable us to complete any mission, any time, anywhere in the world."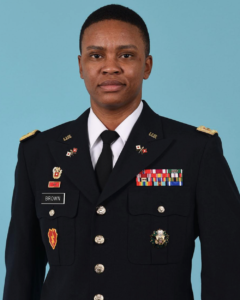 MAJ Ian Brown
U.S. Army
25A, Signal Officer
Current duty station: Fort Belvoir Virginia
Length of service: 21 years 
Why are you proud to serve?
"I'm proud to be among the few to serve our country."
Interesting fact?
"I've been on two All Army Sports teams (basketball and boxing)."
Anything else you'd like to share?
"I'm currently serving in my second command position as the Commander of the Headquarters and Headquarters Company in the U.S. Army Cyber Command."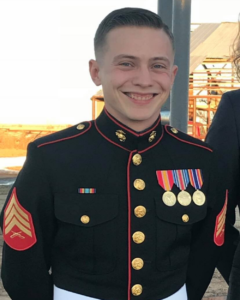 Sgt Sam Gibbs
U.S. Marine Corps
2141 amphibious assault vehicle mechanic
Current duty station: Camp Lejeune
Length of service: 4 years 
Why are you proud to serve?
"I am proud to serve because this uniform is about far more than myself. In the Oath of Enlistment we swear to support and defend the Constitution of the United States. 'We the people.' These words aren't just ink on paper, these words are sentries standing watch in the night. I am honored to serve this nation of people, to support and defend our Constitution, and to wear this historic uniform."
Interesting fact?
"I love classic cars. I'm currently rebuilding a 1955 Chevy C10 step side pickup."
Anything else you'd like to share?
"I am the SPART*A Marine Corps Chapter Leader, MMAA MAC member, and a student. I was once told, 'We don't change the world by going out and doing some larger than life impossible task. We change the world one person at a time, by being ourselves. Be the change you want to see, because it starts with you."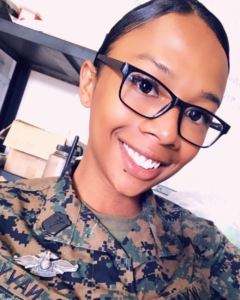 HM3 Akira Wyatt
U.S. Navy
8404 Field Medical Technician
Current duty station: Camp Pendleton, CA
Length of service: 8+ years
Why are you proud to serve?
I am proud to serve not only because I get to do the job I love, which is medical, but also because I serve a purpose that is more than myself in helping my Marines in everything they do for our country."

Interesting fact?
"My dad was a former Marine and my mom is a teacher."
Anything else you'd like to share?
"We all have a purpose in this world. Take it, and do good for everyone else."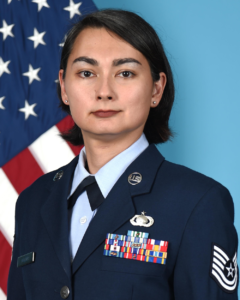 TSgt Alexandria Holder
U.S. Air Force
1N371 Cryptologic Language Analyst
Current duty station: Fort Meade, MD
Length of service: 14 1/2 years
Why are you proud to serve?
"I am proud to serve because I love this country, and I believe that through the actions of its citizens we can make it even better."
Interesting fact?
"My wife and I have triplets! And a beautiful singleton that led the way before them."
Anything else you'd like to share?
"The biggest goal for me is to advocate for equality. As long as a person can meet a standard, there should be no bars to what they should be allowed to do."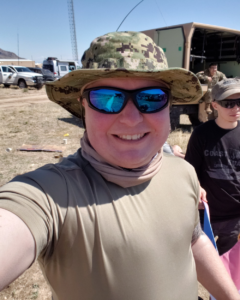 LCDR Blake Dremann
U.S. Navy
Supply Officer
Current duty station: Defense Logistics Agency HQ, Ft. Belvoir, VA
Length of service: 13 years
Why are you proud to serve?
"I am proud to serve this nation because while we may go through ups and downs, while we may see division rock our world, those who wear the cloth of this nation are called to a higher purpose, a higher standard. We remain the seam that keeps the nation from ripping itself apart. We must always hold. For if the military becomes divided, the nation is lost."
Interesting fact?
"I run in a local charity race almost every weekend. If I can find a race, I'm running. I'm not fast and am not looking to win, just a few moments to myself."
Anything else you'd like to share?
"My pupper Lucas is my biggest fan and harshest critic. His facial expressions and vocal cues are legendary. Oh, and I completed the Bataan Death March in 2019 and will be doing so again in 2020."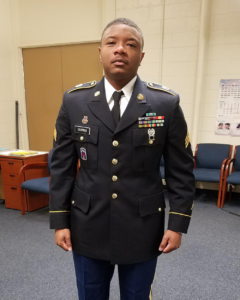 SSG Allyn Cropper
U.S. Army
Adjutant General
Current duty station: Virginia
Length of service: 11 years
Why are you proud to serve?
"I'm proud to serve because while serving I am representing the diversity within our great country and an example of why America is so amazing. I'm also proud to be apart of something greater than myself."
Interesting fact?
"I'd like people to remember that at the end of the day we are human and need and want the same thing — love."