This article first appeared in the February 2021 issue of Modern Military Magazine. Read the original article here.
Military families can be a bellwether for issues that will affect the larger population. At the heart of the differences between military and civilian communities is the fact that military families move every two to three years, which can exacerbate already difficult situations. 
For the LGBTQ military community, there are even greater obstacles. Thousands of troops were discharged from service under Don't Ask, Don't Tell (DADT). It was not until five years ago that LGBTQ military couples were able to legally marry and receive spousal benefits. And hard fought-for rights can just as easily again be at risk when states, or even the federal government, shift positions. The overall effects of systemic financial and legal discrimination on the LGBTQ military community are felt deeply and regularly.
Add the effects of the COVID-19 pandemic, and we have a perfect storm.  
The Military Family Advisory Network (MFAN) watches for those storms. We gather information — through rigorous research, through conversations with military families (including our Advisory Board of military spouses), and through connections among armed service leadership and stakeholders in military family communities — and seek solutions that will benefit all of us. 
The bellwether is ringing. We see a connection between food insecurity and loneliness, which is a double whammy of detrimental health outcomes. The stakes are even higher during the pandemic, when it's important to remain as healthy as possible.  
We know from our research that, even before the pandemic, our military family respondents experienced higher levels of food insecurity than the national population. One in eight of our respondents was food insecure, according to the USDA's Six-Item Short Form Food Security Scale. 
We also saw higher rates among our active duty families and veterans (those who do not have military retirement benefits). It became clear that geography can also have an impact on food insecurity. For example, our data tell us that in Texas and in Norfolk, Virginia, one in six of our respondents were food insecure. 
Next, we saw that respondents having difficulties getting enough food may also be lonelier on the UCLA Loneliness Scale. We analyzed loneliness because it has been shown to lead to higher risks for high blood pressure, heart disease, and weakened immune systems, among other ailments. And that is not even taking into account the mental health implications of loneliness, such as depression, anxiety, and cognitive decline in older people.  
MFAN is not the first to see a connection like this; other researchers have found this same correlation. But we are looking at it from the perspective of military families. We know that both a lack of proper nutrition and loneliness are detrimental to health in a variety of ways — and both are solvable. 
Since 2017, when our peer advisory members first shared with us that military families they knew struggled to have enough food, MFAN has committed to understanding more about military family food insecurity and working to create data-driven responses. Among our efforts:
We introduced a line of food insecurity questions into subsequent iterations of our biennial Military Family Support Programming Survey to learn more about the frequency of food insecurity among military and veteran families.  

We convened the Military Family Food Insecurity Coalition to bring best-in-class partners to the table and develop solutions that drive awareness and access to programs alleviating food insecurity.  

Most recently, we created a regional initiative to both deliver tangible and immediate assistance where our data showed us the need is greatest (in Texas) and to investigate the root causes of why many military families struggle to obtain ample food.
On Tuesday, December 22, we hosted the Military Family Advisory Network Holiday Food Event, the first of what we intend to be many food distribution events across Texas in the year to come. We partnered with the Food Care Center and the University of Texas at Austin Institute for Military and Veteran Family Wellness, and thanks to the generosity of Tyson Foods and H-E-B, we were able to provide food to 500+ military families in the Killeen-Fort Hood area.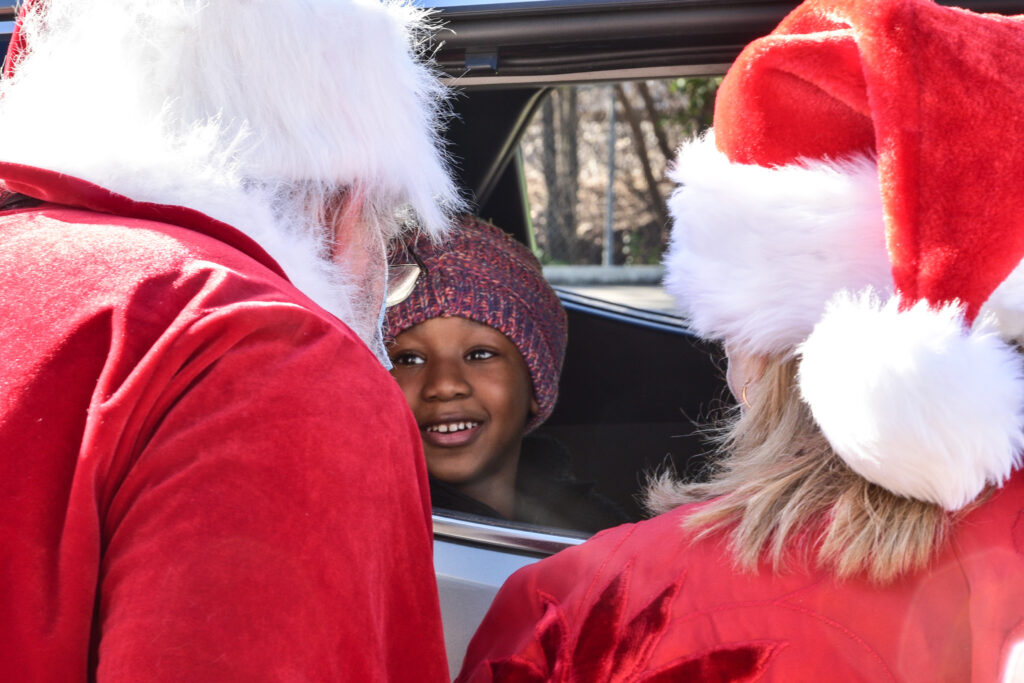 But for every family that was served, we know there are others struggling quietly. While we've been researching and responding to military family food insecurity for the past three years, we know that COVID-19 has introduced new challenges for many. There's a lack of data regarding its impact on military families and their ability to provide food for their loved ones, so MFAN has launched a special release survey to better understand this issue. The findings will help us raise awareness and tailor our response so we can provide the best support to military families. 
To effect change and ensure that hunger is not a battle military families have to fight, we need your help.
Military families move much more often than the average family, often finding themselves in new communities with different neighbors every two or three years. Some of them are just arriving now, in the midst of the pandemic, finding it even more difficult than usual to fit into these new locations. When these families feel marginalized, the risk of isolation can be even greater. 
At a time when many of us are more isolated than ever, and when food insecurity is on the rise, we need to find ways to connect. Not just for the mental health benefits, but also for the physical health benefits. Plus, when people feel supported, it's easier for them to ask for help.   
So what can you do to help end hunger in the military community? 
If you are a military-connected person,

take our survey

to help us understand how COVID-19 has impacted your family. Share it far and wide so that our data can paint the most accurate picture possible of our beautifully diverse military family population.

Find ways to help military families feel included in their communities (in a socially distanced way, of course) to decrease loneliness and help them feel supported. 

If you can spare food to help families near you, donate to your local food pantry, either in your city or on your base. We have a list of them by zip code on our website in our MilMap

SM

tool.

Join MFAN in the fight to make military hunger history by donating to our efforts.
Food insecurity is not just a military family issue; it can affect any of us. But military families already face many unique challenges, and hunger shouldn't be one of them. By working collectively and connecting to each other, we can help take care of each other and combat both loneliness and food insecurity. 
Military Family Advisory Network is a 501(c)(3) nonprofit that conducts research on the needs of military families and serves as a bridge that connects them to the resources, people, and information they depend on to successfully navigate all phases of military life.